Miami Home Inspectors Job Details
Are you tired of earning less income than you know you're capable of making? Want to take control of your schedule, spend more time with family and friends and make more money? If you answered yes to any of these questions then I've got great news for you.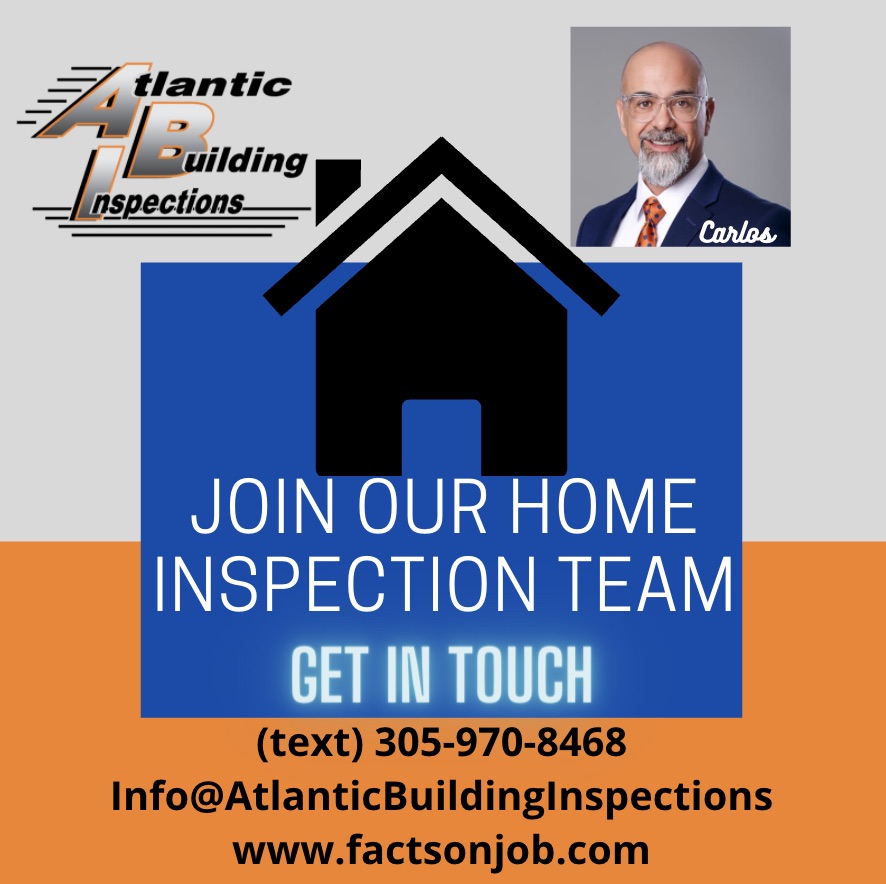 My name is Carlos M. Gonzalez and I am the owner of Atlantic Building Inspections here in South Florida. We provide great home inspections, so our business has doubled each and every year. Because of our explosive growth, we are in immediate need of home inspector candidates.
We are currently looking for new trainees wanting to enter the home inspection industry. If you are looking to join one of the most interesting and rewarding professions available Atlantic Building Inspections just might be the place for you.


The ideal candidate will…
Have good people skills,
Have good communication skills
Be self-motivated and self-managed
Have acute attention to detail
Be somewhat familiar with residential construction
Be in generally good health
Have the ability to move up and down ladders
Be able to enter attics and crawlspaces and able to carry 50 pounds
Need to work in all weather conditions as well as in unconditioned buildings.
Here are just some of the unique benefits we offer:
Earn up to 50% commision (we will explain how)
Flexible work schedules
Earn commission on upselling auxiliary services
Earn commission on performing auxiliary services
If inspection cancels you get the full cancellation fee
Yearly bonuses
Friendly staff competitions (able to earn money here too)
and much much more…
If you want to be considered for this incredible opportunity, please follow the instructions below.
1) Click here to download the questionnaire package, fill it out and return:
2) Please take this typing test and send a "screenshot" the results of your typing speed:
https://www.typingtest.com/
Examples Screenshot:


3) Please take this computer literacy test and send a "screenshot" of the results:
https://www.wiseowl.co.uk/basic-it/skill/basic-it-test/
4) Please EMAIL all this information to: Carlos@AtlanticBuildingInspections.com